SEATTLE (November 23, 2021) – Seattle Business magazine has announced its 32nd annual 100 Best Companies to Work For. Companies made the list based on the scores of confidential surveys that asked employees to report on several categories measuring corporate culture, including executive leadership, work environment, communication and training. The highest scores earned by companies across all categories determined who made the list.
Companies were honored in three categories – small, midsize and large. Those headquartered outside of Washington must employ at least 15 in the state.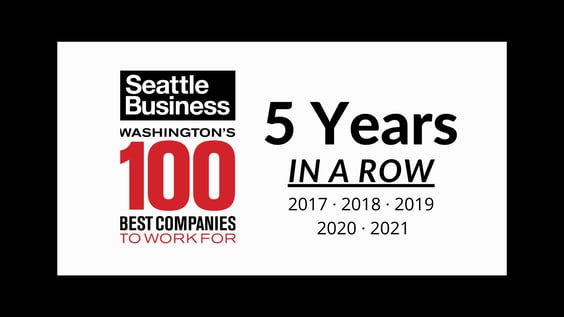 "Corporate culture is not a one-size-fits-all approach, but at its core, a positive and productive work environment centers around creating expectations and valuing the contributions of all employees, regardless of job title," said Seattle Business magazine Executive Editor Rob Smith. "The companies on this year's list managed to successfully keep employees engaged during a time of incredible change. That's truly an impressive achievement."
100 BEST COMPANIES TO WORK FOR 2021: THE LIST
SMALL COMPANIES, 15 to 49 employees
1. StrataCore Inc., Seattle
2. Newfront (formerly ABD), San Francisco
3. Total Merchant Concepts, Vancouver, Wash.
4. Strong Tower Consulting, Bellevue
5. Intrinium, Spokane Valley
6. CW Crates and Pallets, Spokane Valley
7. iMatch LLC, Seattle
8. Ripl Inc., Seattle
9. CloudMoyo Inc., Bellevue
10. Schlemlein Fick & Franklin, Seattle
11. CFO Selections, Bellevue
12. Sublime Media, Seattle
13. Formidable, Seattle
14. Campfire Analytics, Seattle
15. Uplevel, Seattle
16. Northwest Asset Management, Mercer Island
17. Apptentive, Seattle
18. Northwestern Mutual Inland Northwest, Spokane Valley
19. Timber IT Consulting LLC, Seattle
20. Columbia Pacific Wealth Management, Seattle
21. Finity Group, LLC, Portland, Ore.
22. CommerceIQ, Seattle
23. Revolution Custom/Civil Builders, Issaquah
24. Johnston Architects, Seattle
25. Sustainable Interiors, Poway, Calif.
26. Image Source, Kirkland
27. Total Benefit Solutions, Bellevue
28. Whitepages, Inc., Seattle
29. Pacific Capital Resource Group, Inc., Bellevue
30. Volt Athletics, Seattle
31. The Fearey Group, Seattle
32. Progressions Credit Union, Spokane
33. Etter, McMahon, Lamberson, Van Wert & Oreskovich, P.C., Spokane
34. Banzai, Seattle
35. Apex Facility Resources, Kent
36. Carlisle Classic Homes LLC, Seattle
37. Bath Fitter of the Inland Northwest, Spokane Valley
38. ALSC Architects, Spokane
39. RiverBank, Spokane
40. Luum, Seattle
41. Commerce Architects, Spokane

MIDSIZE COMPANIES, 50 to 150 employees
1. Rec Room, Seattle
2. Hayden Homes, Redmond, Ore.
3. World Wide Technology, St. Louis
4. FlowPlay Inc., Seattle
5. Omnidian, Seattle
6. Birch Equipment Rental & Sales, Inc., Bellingham
7. Inrix, Kirkland
8. Ekata, Seattle
9. Bader Martin, P.S., Seattle
10. Karat, Seattle
11. Textio, Seattle
12. Teleion LLC, Seattle
13. Canopy Credit Union, Spokane
14. The Partners Group, Ltd., Portland, Ore.
15. Pivotal Commware, Kirkland
16. Amplify Consulting Partners, Bellevue
17. Community-Minded Enterprises, Spokane
18. Hanson Consulting Group, Kirkland
19. Rehn & Associates, Spokane
20. Cook Solutions Group, Portland, Ore.
21. Nortal U.S., Kirkland
22. Davido Consulting Group, Seattle
23. Nuvodia, Spokane Valley
24. Gaspar's Construction, Inc., Seattle
25. Carney Badley Spellman, P.S., Seattle
26. Coinme, Inc., Seattle
27. Hiya, Seattle
28. Amperity, Seattle
29. Brighton Jones, LLC, Seattle
30. Impel NeuroPharma, Seattle
31. AIM Consulting, Edina, Minn.
32. Shelf Engine, Seattle
33. Kaspien Inc., Spokane Valley
34. Seattle Coffee Gear, Lynnwood
35. Pillar Properties, Seattle

LARGE COMPANIES, 150+ employees
1. Nintex USA Inc., Bellevue
2. Parametrix, Seattle
3. Edward Jones, St. Louis, Mo.
4. Icertis, Bellevue
5. MG2, Seattle
6. Logic20/20, Seattle
7. Evergreen Home Loans, Bellevue
8. Mutual of Enumclaw Insurance Co., Enumclaw
9. Axia Home Loans, Bellevue
10. Sequoyah Electric LLC, Redmond
11. Exxel Pacific, Bellingham
12. Edifecs, Bellevue
13. Barghausen Consulting Engineers, Inc., Kent
14. Numerica Credit Union, Spokane Valley
15. Bridge Partners, Seattle
16. The Spur Group, Bellevue
17. Prime 8 Consulting, Bellevue
18. Panda Restaurant Group, Rosemead, Calif.
19. Astronics AES, East Aurora, N.Y.
20. Kidder Mathews, Seattle
21. Wyze Labs Inc., Kirkland
22. Healthcare Resource Group, Spokane Valley
23. 23: Aero-Flite Aerial Firefighting, Spokane
24. Pushpay, Redmond
View complete coverage at https://www.seattlebusinessmag.com/.